Mens Padmasana hot yoga shorts

Mens hot yoga shorts ideal Bikram yoga shorts designed for the man who wants to be supported.  Featuring a front gusset fully lined offering opacity and support. Form fitting on the body, sitting lower on the waistline.  These hot yoga shorts will hug you in all the right places.  Available in 3 lengths: mini, midi and maxi length and in an assortment of colors.  
Offered in two different fabrics:  Both with a 4 way stretch fabric; One with a Supplex finish that has a cottony-hand-feel and the other lighter in weight with a silky hand-feel. The silky hand -feel is comparable to a bathing suit material.  Both fabric have wicking away properties.  Depending on your preference, you have the choice of a medium weight, cottony hand-feel fabric and a lighter weight with a silky hand-feel fabric.
Padmasana yoga shorts for men were inspired by men's briefs and swimming trunk designed for hot yoga in mind such as Bikram hot yoga and any intense hot, sweaty yoga practice.  Wear them to you next hot yoga class and see for yourself. Form fitting on the body allowing freedom of movement. Comfortable, stylish and durable yoga short.
Bikram yoga shorts designed for the hot yogi in you!  Available in solid colors, prints, with or w/o side stripes, decorative side stitch or not and offered in three lengths: Mini, Midi & Maxi length.
Padmasana yoga shorts in Supplex Cottony hand-feel
(With or without side stitch) - you choose!
Padmasana yoga shorts in Silky hand feel stretch fabric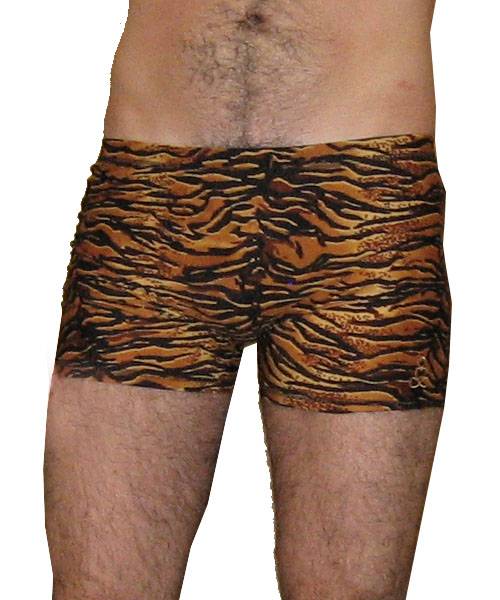 Padmasana yoga shorts in printed fabric
Padmasana yoga shorts w/Side stripe- Cottony hand feel
Fabric:
80/20% Nylon/Spandex blend
Light-weight and soft fabric
Cottony hand-feel
Our men's yoga shorts are very comfortable, practical and are flattering on the body.  They will allow you to move fluidly allowing you to focus on your practice and not having to worry about tucking or pulling here nor there.  With a soft fabric, it lays softly against your skin. Versatile enough to be worn not only for yoga but swimming too!
Sizing Specs: 
X-Small (24-26″)
Small (28-30″)
Medium (31-34″)
Large (36″)
X-Large (38″)
Great pants to practice in. Tried it in Mysore as soon as i got it and it was awesome. I sweat a lot but still comfortable and easy to move in and out of postures. I have been practicing with sweat-n-stretch shorts for 3 years now and own 7 pairs. It's durable too…..still wearing in practice the first pair that i bought. ??
I practice hot yoga a lot and the shorts are the bomb I remember when I first started I was wearing basketball shorts always ringing out the sweat. The fit is great, it is sort of weird to go to a shorter short but they work so well!
Great fit and no adjustment needed while exercising.
Not sure about something? Need help?  Please contact  us via text or email or call!